For a Big Corporation will give this a 7.5 out of 10 for "Connecting in a Pop Culture kind of way to the Peeps".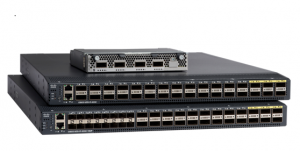 UCS 6300 Series Fabric Interconnect Hits the Street!
Cisco UCS is now a 40G System… 10G is "So 2015".
The 6300 Series Fabric Interconnect builds on this foundation, and it features two new 1RU 40GbE switches and a new 40GbE Fabric Extender. The 6300 series enables 40GbE ports that increases the throughput by 2.6X, and reduces latency by 3X compared to the 2nd Gen Fabric Interconnect.
This really is a badass server. Like that two can be "stacked" in a chassis. The B260 2.4 TB of internal storage is a Nice way to avoid the horror of C-Series.
The Cisco UCS B260 M4 combines the power of two Intel® Xeon® processor E7 v3 product family and accelerates access to critical data. This blade server supports up to 36 processor cores, 3.0 TB of memory, 2.4 TB of internal storage, and 160 Gbps of overall Ethernet throughput. In addition, the Cisco UCS B260 M4 server's innovative modular design offers the capability to upgrade to a 4-socket Cisco UCS B460 M4 server in a cost-effective manner. Simply add another blade module, along with the Cisco UCS M4 Scalability Connector, to double the computing, memory, and I/O capabilities of the server.
The Cisco UCS B260 M4 provides:
●   Two Intel® Xeon® processor E7 v3 product family
●   48 DDR3 memory DIMM slots
●   Two hot-pluggable drive bays for Hard Disk Drives (HDDs) or Solid State Disks (SSDs)
●   SAS controller on board with RAID 0 and 1 support
●   Three PCIe mezzanine slots, with one dedicated for optional Cisco UCS VIC 1340, and two slots for Cisco UCS VIC 1380,VIC port expander, or flash cards
●   Cost effective option to upgrade to the Cisco UCS B460 M4 4-socket blade server
What does this have to do with UCS? Nothing really, think of this as a PSA. To know me is toe shake your head at times and mumble "crazy". It fits.
Have never hosted a live show before. Had a lot of stories to cover and didn't get through too many because I was afraid of moving too quickly and running out of material. Ended up only going through a 3rd of what I had ready!
Doug who usually does the show and runs 
http://blacklistednews.com/
needed a break and asked me to do the show. He makes it sound sooo easy!
So this is me "making some notes about the weeks news stories and 'just doing it'". Amateur broadcaster for sure, but I did it. Daunting as it is but the "Live" feeling is also exhilarating. Well long as the train of thought isn't lost and dead airtime starts to attack confidence like Zombies.
Learned a lot just doing one show. If I get to do it again, will be much better. Amazing what we learn "once we start" something.
I sort of stutter and lose pace a few times… mainly because I don't know what the pace should be (yet). Very good learning experience. Even learned a lot on how to have notes ready. The ones I made were not written in a way fast enough for reading on air. Need to "can" it all a lot better, to leave room for thinking.
MP3 Download https://api.spreaker.com/download/episode/7738108/blacklisted_radio_2_8_2016.mp3
Oh Jeez, sorry to be "Un-Cloudy" but the HTML5 "Cloud Centric" UCS Central UI just don't work for me. Didn't like it in 1.3 either.
How do get the Original Flash UI back, with much rejoicing to follow.
Default HTTPS web link for the HTML5 Cisco UCS Central GUI is https://UCSCentral_IP
Old-School flash-based GUI https://UCSCentral_IP/flex.html
RWUCS still rocks a bit of traffic weekly. Nice to know the peeps are put there.
In 2015 the two top posts where:
#1 page By Far on RWUS
Cisco UCS FC uplinks to Brocade Fabric
http://realworlducs.com/cisco-ucs-fc-uplinks-brocade-fabric/
#2 yes, people actually do this… people that are masochists
Cisco UCS iSCSI Boot Through Appliance Ports Setup Video
http://realworlducs.com/cisco-ucs-iscsi-boot-appliance-ports/
Weekly Stats Report: 1 Feb – 7 Feb 2016
Project: Realworlducs.com
URL: http://realworlducs.com/
Summary
| | | | | | | | | | |
| --- | --- | --- | --- | --- | --- | --- | --- | --- | --- |
| | Mon | Tues | Wed | Thur | Fri | Sat | Sun | Total | Avg |
| Pageloads | 153 | 139 | 206 | 185 | 137 | 43 | 78 | 941 | 134 |
| Unique Visits | 116 | 102 | 148 | 138 | 88 | 37 | 48 | 677 | 97 |
| First Time Visits | 84 | 78 | 109 | 104 | 60 | 26 | 38 | 499 | 71 |
| Returning Visits | 32 | 24 | 39 | 34 | 28 | 11 | 10 | 178 | 25 |
2015 Traffic
http://statcounter.com/p9746613/summary/daily-rpu-labels-line-lastyear/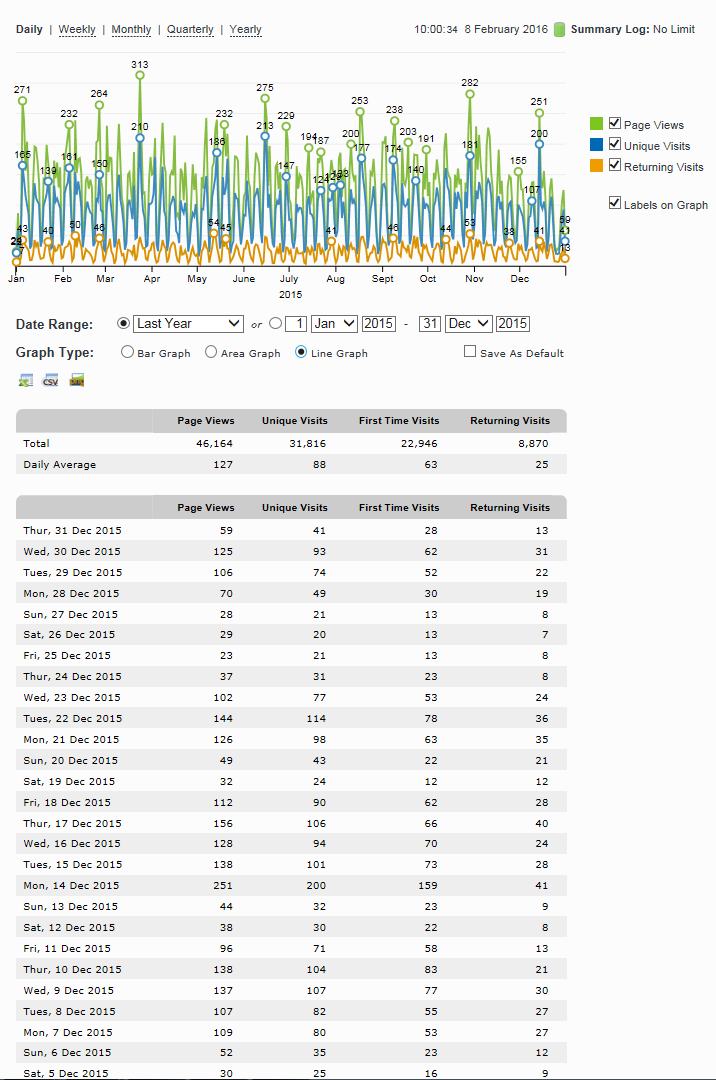 Still not sold on Mini. Don't see how 2u more for a real UCS is a big deal.
M-Series are cool, but with 2 servers per cartridge, makes DIMM changes etc problematic. 100% better if each cartridge was 1 server.
Read More: Cool Updates to UCS Mini and M-Series